Big Rock Brewery Announces Brand Licensing Agreement with Iconic Brewing
For Immediate Release
April 3, 2019 — Calgary, Alberta — Big Rock Brewery Inc. (TSX: BR) ("Big Rock" or the "Company") today announced that it has entered into a license agreement, pursuant to which it has licensed the right to Iconic Brewing Company's ("Iconic") brands in the ready-to-drink ("RTD") category in Alberta and British Columbia ("BC"). The initial term of the agreement is five years, with the provision for a five year extension.
"This is an exciting entrance into the RTD space for our Company and we believe we found a great partner in Iconic," said Wayne Arsenault, President and Chief Executive Officer of Big Rock, "Iconic has had significant growth in the Ontario market over the past few years and we believe their portfolio of brands are on-trend and will have great success in Alberta and British Columbia for years to come."
Cam McDonald, Chief Executive Officer of Iconic, added "Given Big Rock's commitment to quality and culture, in addition to its footprint in Western Canada, we are excited to build a long term partnership with the Company and grow our brands out West. Our experience and innovation in the RTD space and Big Rock's depth in alcoholic beverage production and market penetration will ensure we deliver top quality products to consumers."
Big Rock and Iconic will be working closely together over the coming months to ensure Iconic's high quality offerings will be ready for store shelves in Alberta and BC by summer 2019. Iconic's branded offerings include:
▪ Cottage Springs Vodka Sodas (Peach, Lemon Lime and Watermelon)
▪ Cabana Coast Moscow Mules
▪ Picnic Wine Cocktails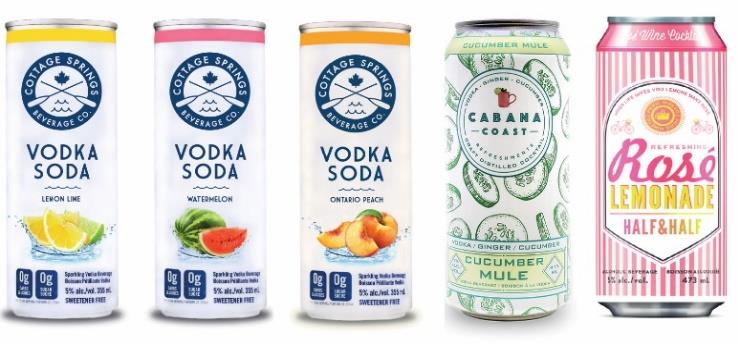 About Big Rock Brewery Inc.
In 1985, Ed McNally founded Big Rock to contest the time's beer trends. Three bold, European-inspired offerings – Bitter, Porter and Traditional Ale – forged an industry at a time heavy on easy drinking lagers and light on flavour. Today, our extensive portfolio of signature beers, ongoing seasonal offerings, four ciders (Rock Creek Cider® series) and custom-crafted private label products keep us at the forefront of the craft beer revolution and still proudly contesting the beer trends of today. With brewing operations in Calgary, Alberta, Vancouver, British Columbia, and Toronto, Ontario, and sales in five Canadian provinces and two territories, Big Rock has been a significant supporter of local Canadian breweries and communities for over 33 years. Big Rock trades on the TSX under the symbol "BR".
About Iconic Brewing Company
Founded in 2013 by three young entrepreneurs, Iconic Brewing Company, headquartered in Toronto, Ontario, is a leading alcoholic beverage company committed to building a unique portfolio of RTD products. Fueled by their passion to enhance the drinking experience and unrivaled pursuit of liquid innovation, Iconic has produced and developed a variety of unique and refreshing beverage brands in-house that supports their commitment consumers in the RTD "better-for-you" category. Through strong inventory positioning and reliable supply, Iconic won Supplier of the Year at the 2017 LCBO's Elsie awards. With current distribution in Ontario, Manitoba, Saskatchewan, Nova Scotia, New Brunswick and now Alberta and British Columbia, Iconic is quickly emerging as a leader in Canada's "better-for-you" beverage alcohol space.
Forward-Looking Information
Certain statements contained in this news release constitute forward-looking statements. These statements relate to future events or the Company's future performance. All statements, other than statements of historical fact, may be forward-looking statements. Forward-looking statements are often, but not always, identified by the use of words such as "plans", "expects", "intends" and similar expressions. These statements involve known and unknown risks, uncertainties and other factors that may cause actual results or events to differ materially from those anticipated in such forward-looking statements. The Company believes that the expectations reflected in those forward-looking statements are reasonable, but no assurance can be given that these expectations will prove to be correct and such forward-looking statements included in this news release not be unduly relied upon by investors as actual results may vary materially from such forward-looking statements. These statements speak only as of the date of this news release and are expressly qualified, in their entirety, by this cautionary statement.
In particular, this news release contains forward-looking statements pertaining to the anticipated success of Iconic's brands in Alberta and BC and the timing of the offering of such brand products in Alberta and BC.
Some of the risks which could affect future results and could cause results to differ materially from those expressed in the forward-looking information and statements contained herein include, but are not limited to the anticipated change in the tax environment for RTDs in Alberta and BC as well as delays in the production and distribution of the brand offerings.
Readers are cautioned that the foregoing list of assumptions and risk factors is not exhaustive. The forward-looking information and statements contained herein are expressly qualified in their entirety by this cautionary statement. The forward-looking information and statements included in this news release are made as of the date hereof and the Company does not undertake any obligation to publicly update such forward-looking information and statements to reflect new information, subsequent events or otherwise unless so required by applicable securities laws.
For further information, please contact:
Don Sewell, Chief Financial Officer:
Phone: (403) 720-3239
Fax: (403) 720-3641
Email: investors@bigrockbeer.com